Adapting your working method to the operation of a software package is no longer of this time, our software adapts to your processes and not otherwise! Our solutions originated and developed from practical experience and provide a custom integration to prepare and implement Shutdowns and Turnarounds efficiently and in a structured way.
MainTasc is a management software that helps you automate your preparation and execution of Shutdowns and Turnarounds. MainTasc improves the efficiency and integration of operational maintenance processes. It is a great and flexible software that allows you to work more efficient, make better choices and thus improve your results.
User friendly
User oriented
Initiation
Preparation
Execution
UNIQUE INTEGRATED SOLUTION
Function locations
Equipments
Materials
Bill of materials
Vendors
Notifications
PM orders
Work breakdown structure
Status updates
Task lists
Components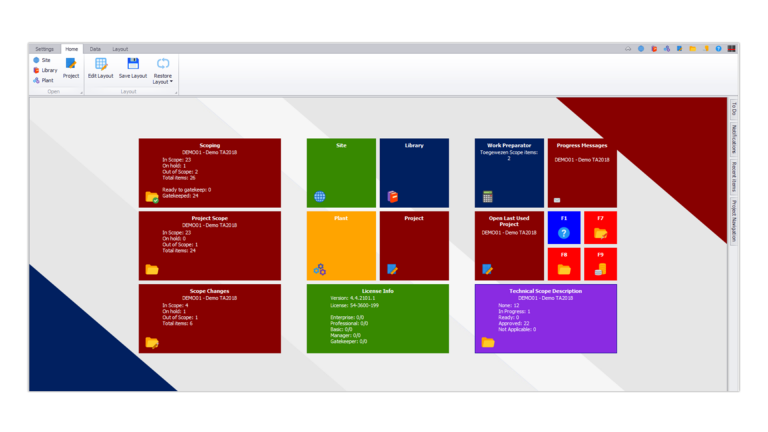 MainTasc welcomes you with a home page full of adjustable widgets which help you navigate quickly to that part of the application you need to go!
A Library contains the building blocks for the structural setup of Plants and Projects, such as:
Suppliers
Resource structure
Standard Activities & Templates
Material Catalogue
Unit norms
Various statuses
Various codes
User Defined Fields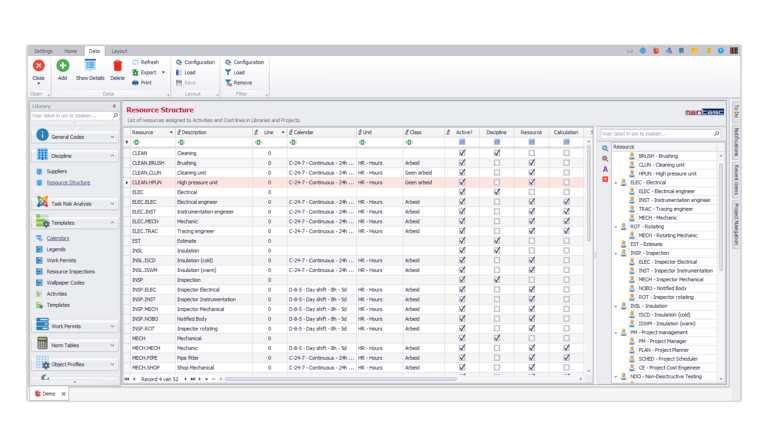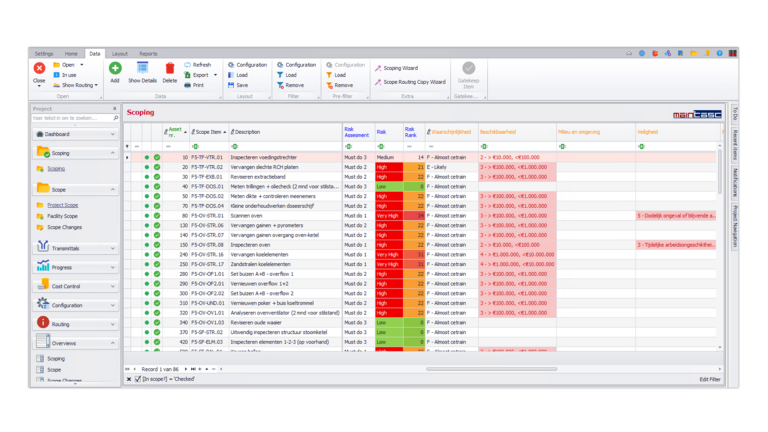 Scoping is particularly important in a project. MainTasc uses a Risk Assessment Matrix to objectively gatekeep all scope requests and turn them into scope item.
The scope of work is the core of a project and needs to be managed well. MainTasc provides you with all the nessecary tools to do just that!
Use digital routing to gather info from your organisation
Manage all necessary documents
Gather technical information
Easily access your historical data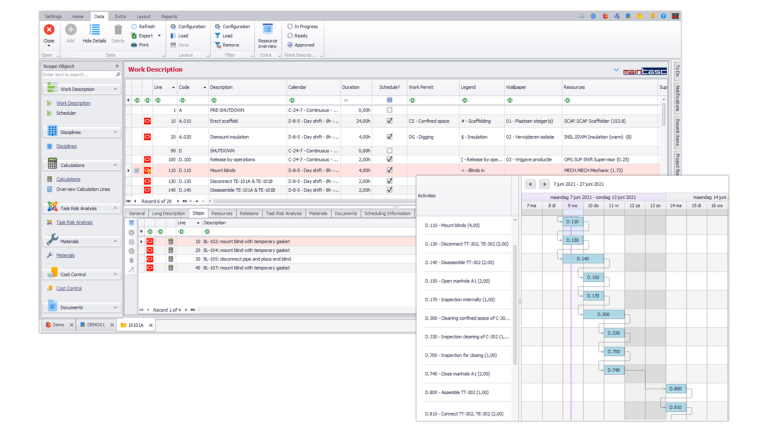 Each scope item can be prepared by a planner in full detail using easy to use add panels, templates and copy wizards.
Work Description (Job Card)
Calculations
Materials
Task Risk Analyses
Documents
Keep track of Tenders, Purchase Request & Orders and Invoices for your project.
Create Hand Over transmittals to inform your suppliers and request quotations.
Manage the cost of your projects efficiently and transparently by comparing estimate scenarios against actual costs and budget.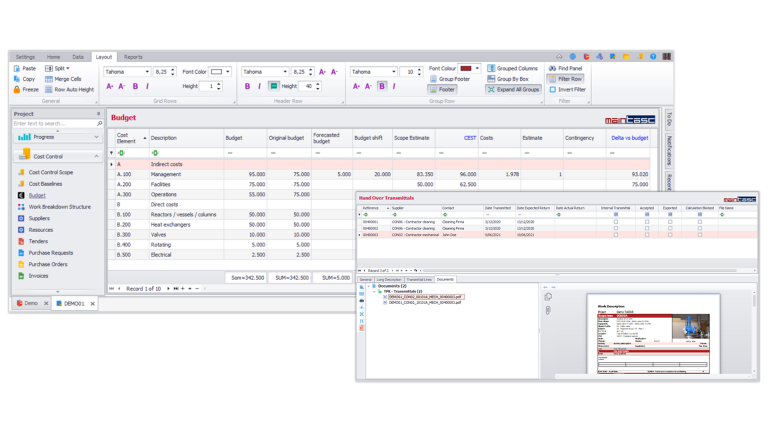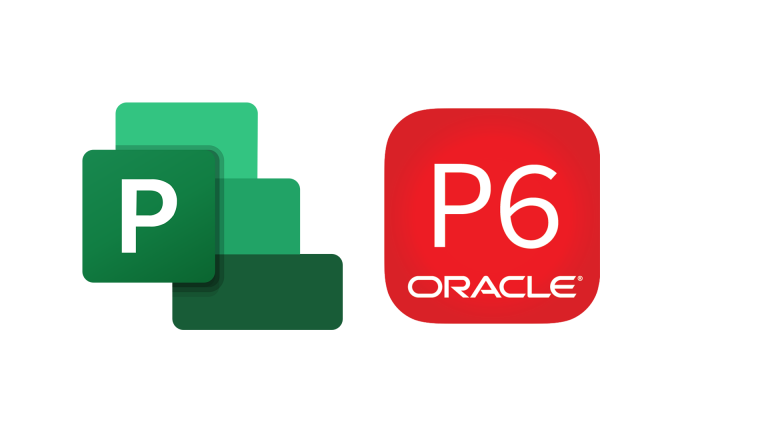 With MainTasc you are ready for a seamless transition to Microsoft® Project and Oracle® Primavera® P6.
A flexible customizable dashboard shows the status of a project in a blink of an eye using:
Graphs
Charts
Key Performance Indicators (K.P.I.'s)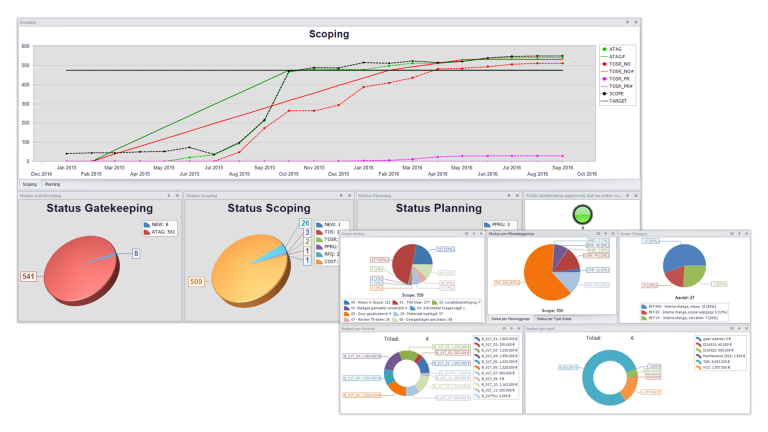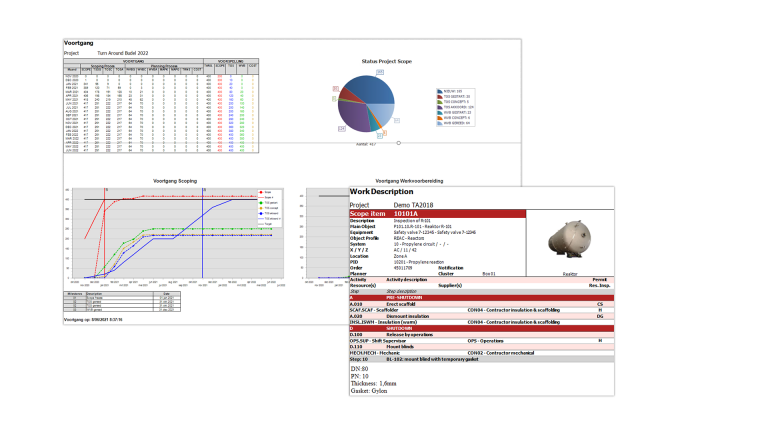 A built-in report generator makes sure that all data can be printed, either to a printer or PDF, using your own look & feel.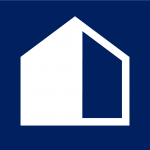 With Warehouse it's possible to work with material orders (partial)deliveries, install and divide material in the warehouse and the allocation items to employees.
Location management
Material receival
Bagging and Tagging per…

Job
Material sheet
Activity / Task

Execution delivery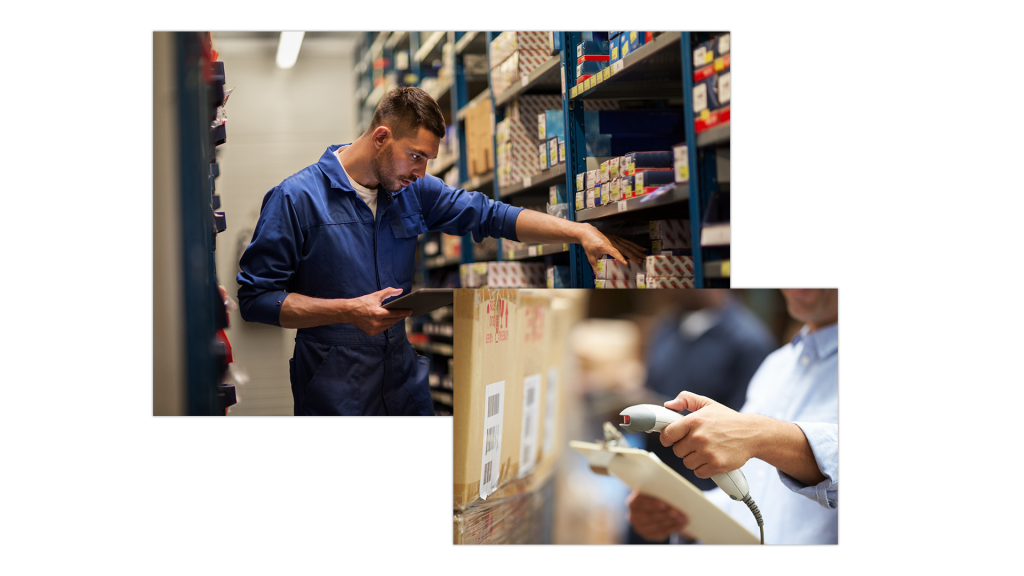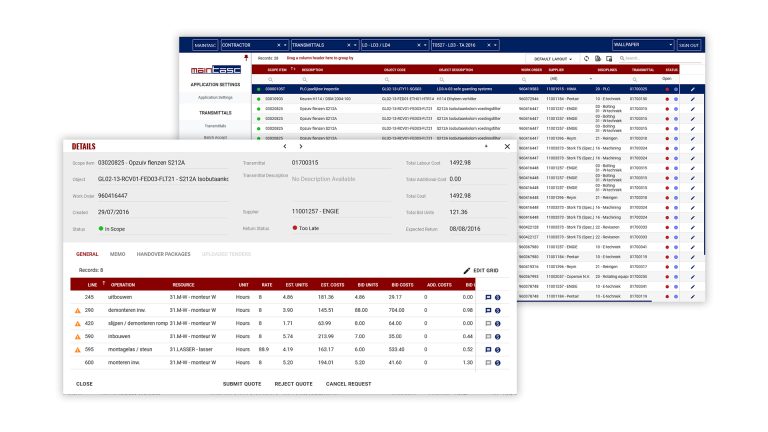 Contractor enables you to expedite and facilitate the contracting of your projects. Your contractors or suppliers can digitally quote their work packages and give valuable input for the schedule.
Create handover packages for contractors
Request and Approve quotations and tenders from contractors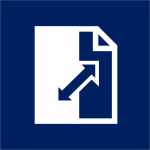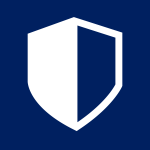 Safety is our highest priority. Safeguard makes sure that jobs can be executed in a safe environment.
Manage unique blind locations
Create Safety List templates
Execute Safety Lists using mobile devices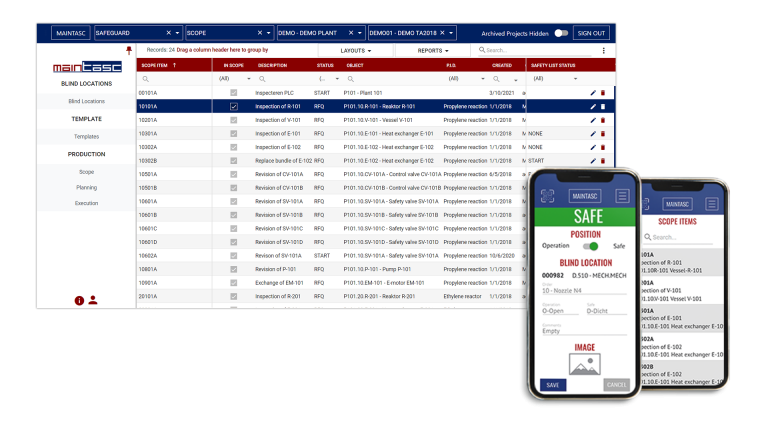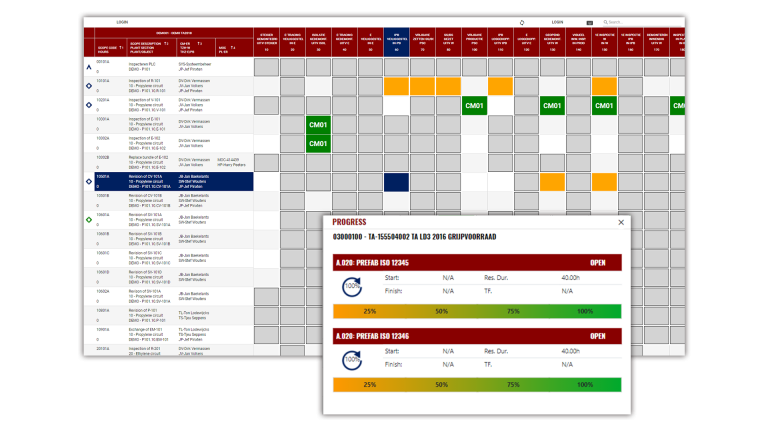 Easy digital acceptance and progressing of work tasks. This together with a real-time overview of a projects progress.
Create a digital wallpaper with multiple layouts
Accept tasks with a touch monitor
Register real-time progress
Powerful project dashboard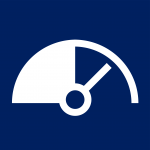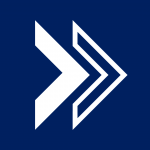 The tracking of progress has never been easier. Have an immediately overview of how far the work has progressed.
Realtime progress on mobile devices
Follow up of the status of activities
Look ahead in time to check what's coming
Enter feedback for the rest of the team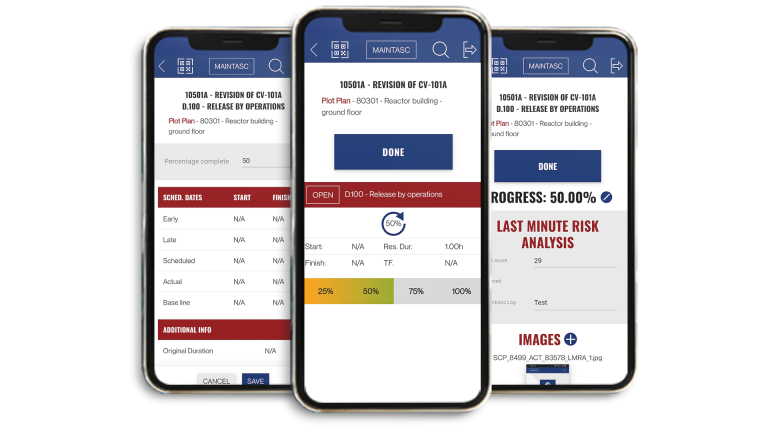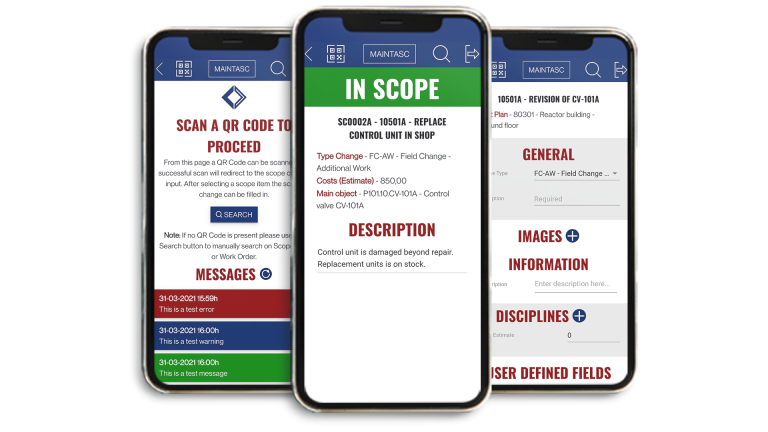 Scope changes can have various consequences. That is why all the accompanying elements should be managed properly to keep track of scope changes in an intuitive way.
Add Scope Changes in the field
Add photos and additional information
Make estimates
Follow up approvals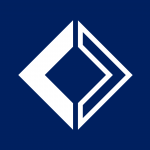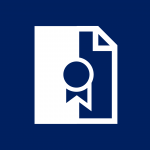 To create, consult and print a permit has never been easier.
Permit Proposals based on Task Risk Analysis for mediums and zone's
Easy to adapt to specific situations
Extract Permits based on lookahead reports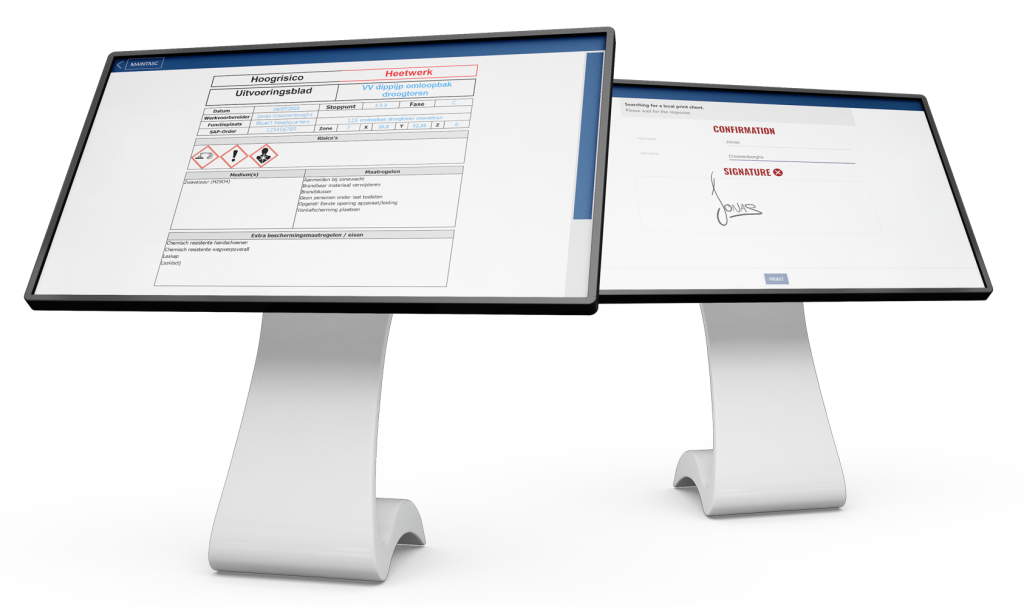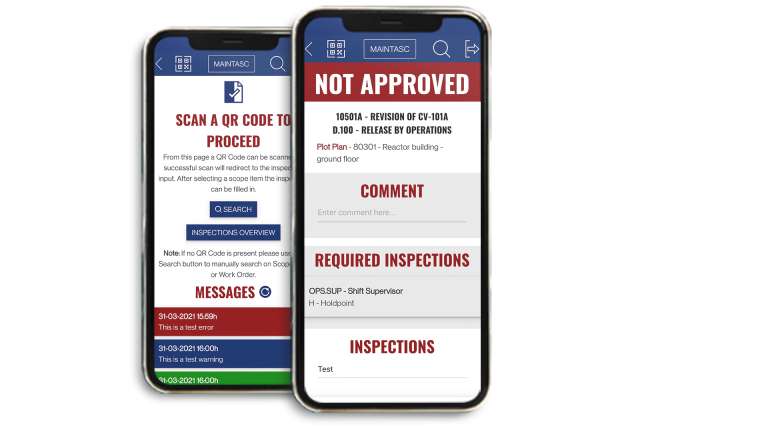 Inspect the work in the field and enter feedback for the team.
Inspect & approve or disapprove
Add comments and photo's
Follow up inspections